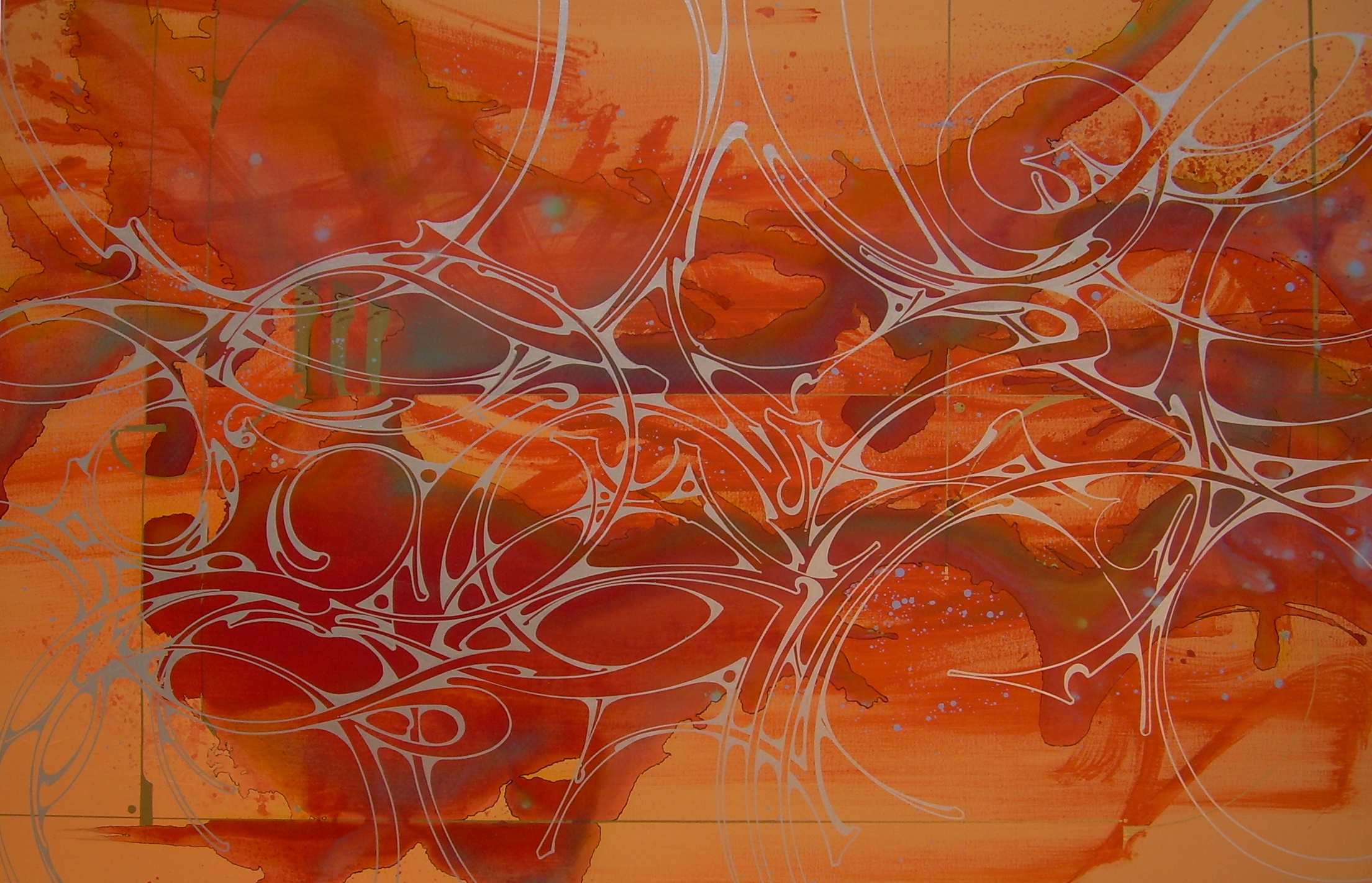 A's up, mixed media on canvas, 48"x72", 2008
Amsterdam Centraal, mixed media on canvas, 48"x48", 2005
At Worn's, mixed media on canvas, 36"x36", 2004
Atiacuihuayan, mixed media on canvas, 36"x60", 2007
Cascade Head, mixed media on canvas, 96"x120", 2011
Coho, mixed media on canvas, 24"x72", 2011
Sand Shift 2, mixed media on canvas, 24"x72", 2007
Snails Dream, mixed media on canvas, 24"x60", 2006
Green Tea, mixed media on canvas, 68"x40", 2005
Dry Ice Mindstate, mixed media on canvas, 30"x22", 2004
Moth, mixed media on canvas, 60"x36", 2006
Purple Heart, mixed media on canvas, 48"x48", 2005
Purps, mixed media on canvas, 47"x47", 2007
Orchids Think 2 (dyptic), mixed media on canvas, 36"x60", 2005
Royal Junk 2, mixed media on canvas, 36"x60", 2007
Willamette Silt 2, mixed media on canvas, 36"x72", 2011
Unaccredited, mixed media on canvas, 48"x48", 2005
Linear Progression 11
24"x72" tryptic (24"x24" individually) mixed media on canvas
Linear Progression 12
24"x72" tryptic (24"x24" individually) mixed media on canvas
Si Naani
36"x36" mixed media on canvas
Mekong Scanvenge, mixed media on canvas, 12"x36", 2006
Hyphenation, mixed media on canvas, 48"x60", 2007
MeltFast 7, mixed media on canvas, 24"x72", 2006
Shotput, mixed media on canvas, 12"x24", 2007
Silk Stain 7, mixed media on canvas, 52"x28", 2007
Preemptivity, mixed media on canvas, 24"x60", 2005
Junk 2, mixed media on canvas, 66"x66", 2004
MeltFast 1, mixed media on canvas, 24"x60", 2004
MeltFast 1.5, mixed media on canvas, 12"x48", 2004
Waimea
24"x72" tryptic (24"x24" individually) mixed media on canvas
Benthic Sway, mixed media on canvas, 84"x84", 2007
Ganesha, mixed media on canvas, 47"x47", 2007
Hectocotyli, mixed media on canvas, 78"x108", 2011
John Day, mixed media on canvas, 48"x120", 2011
Levitate, mixed media on canvas, 42"x120", 2011
Sacred Art of Dying, mixed media on canvas, 48"x120", 2011
Silent Disintegration 7, mixed media on canvas, 48"x48", 2010
Silent Disintegration 20, mixed media on canvas, 60"x144", 2010
Tetsuos Traffic Jam, mixed media on canvas, 36"x72", 2011
Silent Disintegration 8, mixed media on canvas, 24"x60", 2009
Silent Disintegration 9, mixed media on canvas, 48"x48", 2009
Benthic Sway 11
24"x72" tryptic (24"x24" individually) mixed media on canvas
Benthic Sway 12
24"x72" tryptic (24"x24" individually) mixed media on canvas
Benthic Sway 13
24"x72" tryptic (24"x24" individually) mixed media on canvas
Mannequin1, mixed media on polymer, 24"x18"x6", 2008
Yumeko, mixed media on canvas, 36"x72", 2007
Merrick (tryptic), mixed media on canvas, 36"x48", 2007
Oushi, mixed media on canvas, 26"x60", 2007
Slow Mist 12, mixed media on canvas, 36"x24", 2008
Carneceria y la Calle (tryptic), mixed media on canvas, 36"x108", 2007
Borneo, mixed media on birch wood, 18"x24", 2003
Cabezon
Cabezon (2014) 48"x108" mixed media on lauan panel
The Cabezon is a large species of sculpin that are native to Northern Pacific coasts from California to Northern British Columbia. They are typically found among our reefs, kelp forests and intertidal areas growing up to 48" and 28 lbs. They are covered in striking regional specific camoflauges, hunting mollusks, crab, fish and squid. Their mouths and gill areas can range in color from pale blues to black and red. The velvety fades, drips and washes of the background are reminiscent of benthic pacific nightscapes, the glowing pearl guiding your way into and across the movement of the piece. The linework is symbolic of Pacific tides and currents.
Ko'olau Rain
Ko'olau Rain (2014) 48"x108" mixed media on lauan panel
The Ko'olau mountain range defines the visual geology and landscape of the Hawaiian Island of O'ahu. Seperating the sunny side from the rainy side, they are a catchment system for vast pacific weather systems, filling the rainforests on and below with hundreds of inches of rain per year. I'm in love with the relationship that these tradewind weather systems have with the land below. The smell of the air, the rainforests, freshwater, deep turquois saltwater and the range of micro-climate diversity in between. Hawaii is a rejuvinating place for these reasons, this piece is my ode to that. The ocean line along the bottom is painted with iridescent turquois acrylic that literally changes pearlescent hue as you walk from one side of the piece to the other.
Linear Progression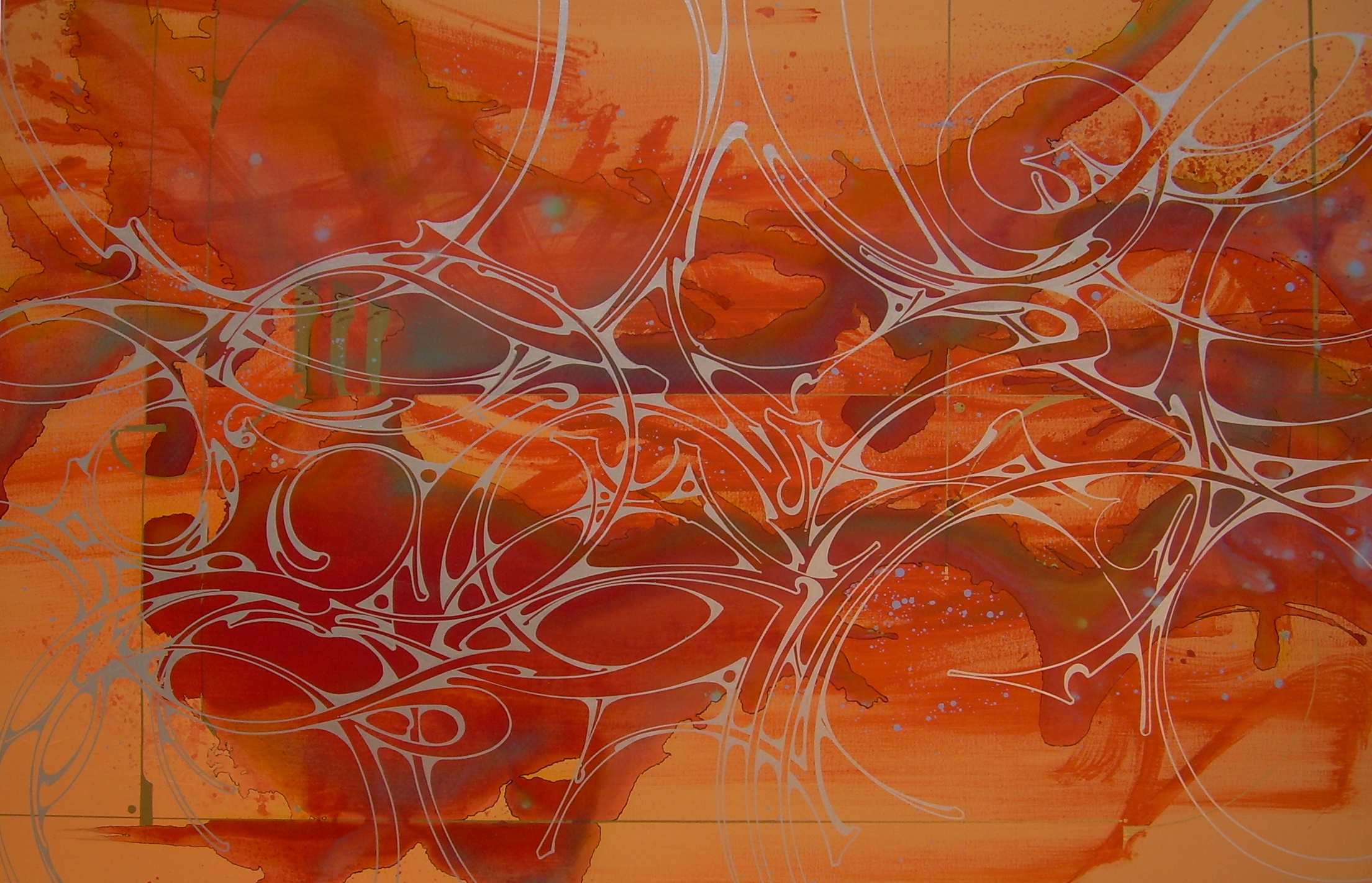 MeltFast
Silent Disintegration
Etcetera...